What is the Florida Fishing Academy?
The Florida Fishing Academy (FFA) is a nonprofit, 501(c)(3) organization formed in 2006. Our mission is to empower our youth with marine experiential learning.
As part of our mission, we aspire to instill positive values in the young people we educate and mentor. These values include a respect for the law; a responsibility to preserve and protect the environment; a commitment to personal health and hygiene; a desire to be stewards of safe local neighborhoods; a belief in the value of education; and an urge to be positive role models.
How does the FFA work?
All FFA programs attend to the social and emotional needs of our youth, which leads to skill development, well-being, prosocial behavior, as well as improved academic performance. Benefits include higher grades, improved standardized test scores, on-time grade promotion, reduced dropout rates and increased school-day attendance. It is important to note, fishing, swimming and boating are the activities we use to increase engagement, class participation and self-awareness.
Angling for a Healthy Future
Some students will start with our basic program, Angling for a Healthy Future, taught in 10 one-hour sessions during the summer and school year at the high schools and middle schools. This entry-level course provides students with opportunities to learn – about fishing, the environment and themselves – and practice life-skill strategies that lead to academic and workplace success. Fishing trips, safety drills and other outdoor activities also offer fun, real-world applications of in-class lessons. Students will learn basic fishing skills, boating safety, fishing regulations, marine biology, lab experiments, fish dissection and environmental awareness, with sessions supplemented by life-skills lessons designed to build self-confidence, responsible interaction and goal-setting, problem-solving, financial literacy and other strategies. We spend at least an hour a week with our students. When we are out fishing, we will spend between three to six hours in informal group mentoring sessions.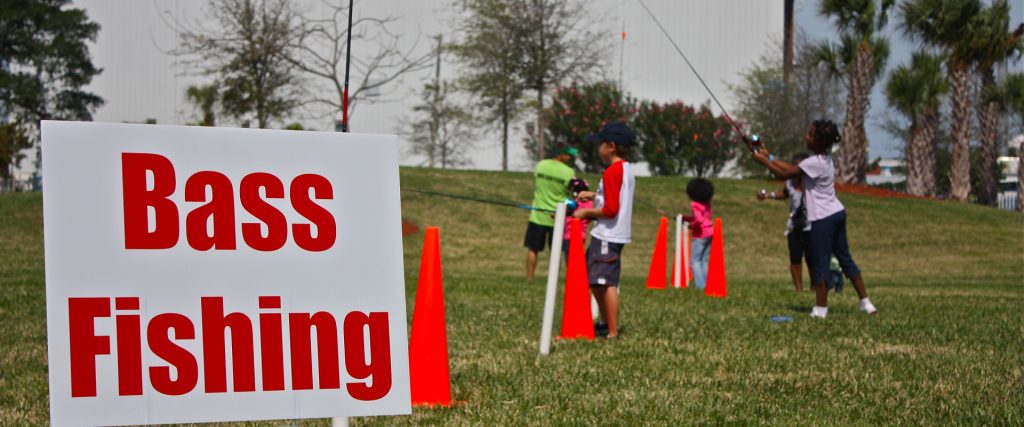 Charting a Course in the Marine Industries-1
In Charting a Course in the Marine Industries, middle and high school students will identify what their areas of interest are and what skills they have or need to develop. The first 10 sessions will incorporate important life-skills activities designed by Weikart. Each one-hour class has a strong dose of character-building, leadership opportunities, confidence-building, emotional management, responsibility, empathy, initiative, problem-solving, critical thinking, teamwork and stress-relief activities and lessons. Students will learn computer navigation skills, professional etiquette, proper attire and interviewing techniques for successful employment, as well as how to manage stress, time and money. Our instructors can also help with homework and tutoring. These students will have an opportunity to mentor younger students, teach our program, navigate a vessel, chart an open-water course, fish commercially, compete in fishing tournaments, design and build rods, repair reels, build lures and become a certified Red Cross lifeguard or babysitter.
Charting a Course in The Marine Industries-2
The newest section of Charting a Course– taught throughout the year – will prepare students for the workforce. Last November, we signed a lease for the old workshop at the Riviera Beach Maritime Academy, in Riviera Beach. We are expanding our current job training program to include, for the first time, a pre-apprentice program, where students receive training in carpentry and wood tools, boat handling and trailering, sanding, polishing and detailing of a hull. They learn about composites, boat maintenance, terminology and basic hand tools. To help students grow creatively, the shop is also open to students who want to work on a school or science fair project. They will learn from FFA staff, volunteers, business partners and young adult mentors recruited from the community. They can return to area elementary schools and teach our younger students, establishing their roles as leaders. These students can also serve as FFA camp counselors, and they can work with our community partners through our on-the-job training component. By spring break, many of these students will be able to see the fruits of their labor. Qualified students can receive their boating safety, lifeguarding, babysitting and/or CPR certifications or Pre-Apprentice Completion Certificate.
Evidence of Effectiveness
So far, we have assisted over 324 students in finding marine jobs and certified 216 Red Cross lifeguards and 42 Red Cross babysitters. Before COVID-19, over 3,550 students of all ages participated in our camps and weekend events annually, thanks in large part to funding from the United Way of Palm Beach County, Prime Time Palm Beach County, Palm Beach County Youth Services and our contract to run the Riviera Beach CRA's Community Boating Program. In past years, the Marine Industries Association of Palm Beach County awarded us a $30,000, three-year grant for Mobile Marine Lab, $6,000 for our annual fundraiser and $10,000 for our pre-apprentice program.
While these numbers are impressive, this year was truly enlightening for our director, Capt. Rich. Every time he writes a grant, he is asked about our outcomes, which are typically focused on the marine environment, helping students transition from high school, increasing graduation rates, decreasing drug use, etc. Somewhere along the way, we neglected to track one of the most basic outcomes – overcoming fear. Around 95% of our students have never been on a boat or in the ocean, even though they live within a mile of the water. Capt. Rich was reminded of this recently while on a trip with some high school students from the Boys and Girls Club of Riviera Beach. We had several girls who were terrified of the water, and yet when other girls in the group took their hand and offered encouragement, together, they jumped in the water. It was both a rewarding and awe-inspiring sight.
What makes the FFA different from similar organizations?
While a number of valuable and effective programs target at-risk kids, FFA uses an asset that is available to everyone: Florida's spectacular marine world. You can't drive far in Florida without spotting a fisherman, a boat or a large body of water. Fishing and water are part of the fabric of Florida, and there is not a more effective way to introduce our youth to a richer and more productive life. Our program capitalizes on these natural resources to engage children — tomorrow's anglers, boaters, marine biologists and environmental stewards — in fishing as a sport and livelihood, while involving them in the effort to preserve our fragile marine environment. Since our inception, the FFA has used this technique to hook well over 23,000 kids throughout Palm Beach County.
How can you make a difference with the FFA?
Documented evidence shows that every $1 spent redirecting disadvantaged youth saves $25 in costs that would be spent on the criminal justice system. Your contribution will be put to work engaging, inspiring, educating and positively redirecting at-risk, disadvantaged and handicapped youth in Palm Beach County. The direct effect will be a reduction in the local crime rate, unemployment, teen pregnancy, drug use and youth violence, improving the safety of the neighborhoods and streets right here at home.